What makes our panels better than the others?  Spend a few minutes to read through the points below – I know that when finished, you'll agree that we are the ONLY choice for your restoration.
Click Here to view our NEW Online Panel Catalog!
Click Here to purchase panels in our NEW Online Store!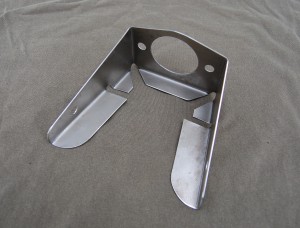 Our panels are made with EXPERT CRAFTSMANSHIP! Monocoque Metalworks was born out of a lifelong fascination with the E-Type  body shell, but also a frustration with the panels currently available.  After several years of finding, restoring, and re-tooling the machines necessary for this work, fabricating panels that are not absolutely perfect is simply not an option.  For example, we use razor-sharp shears instead of nibblers, producing dead-straight, crisp edges that you have to see to believe!  We also constantly tune our machines so that all bends, cuts, and holes are as crisp as the original panels.  All holes are the correct shape and size, and are located EXACTLY where they belong.  And, all sub-assemblies are spot-welded with vintage, high-quality equipment that exactly reproduces the original spot-welds, and is constantly checked for the proper penetration.  We form it right – every single time.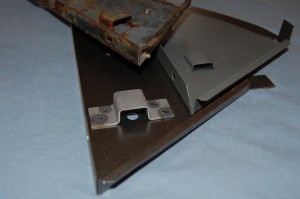 Our panels are MORE ACCURATE! Many panels currently available on the market are simply incorrect.  While they are usually 'close enough', small details like the incorrect metal gauges and dimensions often cause problems later.  One example of this is the battery J-hook bracket on the LH forward sill closing panel.  The original is ½" high and formed from 16-gauge steel, and so is ours.  Other manufacturers of panels makes this bracket from thinner 20-gauge steel and only ¼" wide, and after the tub is restored and painted, you discover the battery can't be mounted…
Our panels arrive READY TO INSTALL! Because our company is small and many panels are made to order, and because our panels don't spend months in a shipping container coming from overseas, we can ship our panels in bare steel.  Other manufacturers coat their panels in a very low-quality, black "shipping primer" that most restorers have learned the hard way MUST by stripped before applying quality primers and paints – not to mention the abundance of stickers…  This is very time consuming and messy.
We make the panels that you can't get ANYWHERE ELSE! We have patterns and examples of nearly every E-Type panel – our shop is literally bursting at the seams with original panels and sections of E-Type shells.  As a result, unlike large suppliers that can only sell you what is on the shelf, we can fabricate whatever obscure panel you need!  We can also create only a portion of the panel if it makes more sense for your car – our partial boot floor is one example.
Our panels are PERFECT, but THEY DON'T HAVE TO BE! We make our panels identical to the original pieces, but we can also make the panel any way you like!  We can make the panel from a thicker gauge of steel if you prefer, or even in aluminum!  We can eliminate some original factory holes, re-locate them, re-size them, or make them oblong for adjustment – whatever you need!
Our panels are NEVER BACK-ORDERED! If you haven't experienced this nightmare yet, consider yourself one of the lucky ones.  A large order of panels placed with one of the "other" suppliers often results in you receiving somewhere between 50-80% of what you need – and you usually can't assemble ANY of it until you have ALL of it.  What are you going to do with a LH floor, LH outer sill, all the gussets, and a back-ordered LH inner sill? – Nothing – except sit around frustrated while you wait 6 weeks for it to finally show up…  At Monocoque Metalworks, while we may not have absolutely everything on the shelf when you call, it's all made right here, so your panels are never more than a few days away!
Our panels are NEVER DAMAGED IN SHIPPING! OK, that's not entirely true, but if they are, we ship you new ones immediately, free of charge!  I spent several years of my youth packing, unpacking, and shipping E-Type panels every day after school.  I know what happens to them in shipping, how they get damaged, and how to prevent it.  I also know the physical pain you feel when you open a box to find a brand new outer sill or a boot floor that's been bent in half during the journey.  I will either prevent you from ever feeling that pain, or quickly erase it.  One thing you'll NEVER hear is, "Sorry, you'll have to put in a claim with the shipper…"  You probably WILL hear some colorful descriptions of the shipper, followed by, "OK, I'm very sorry, throw them in a recycle bin, and stand by for some replacements."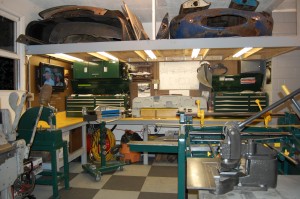 WE KNOW WHAT WE'RE TALKING ABOUT! We have ONE customer service rep – me, Chuck.  When you call to place an order or with questions, you won't be talking to an order-taker who's never even sat in an E-Type.  Instead, you'll speak with me directly, and I'm usually in the shop surrounded by E-Type shells during the conversation.  I'll help you with enthusiasm and an intimate knowledge of E-Types – you won't have to spend hours deciphering the picture-less, error-filled websites of the big parts houses that have a mind-numbing amount of errors on them with part numbers, etc.  Just call up and tell me what you need and we'll form it up!  Replace, "I'm sorry, sir, I need the part number" with "Yup, I know exactly what you're talking about.  I'll form them up and send you a photo of the completed panels later today to be certain.  Thank You – I appreciate your business!"
AND… on top of all of that, OUR PANELS COST LESS! We are a serious, yet still relatively small operation…  We are very specialized – we concentrate on one component of one car – Jaguar E-Type body shells.  That means that our overhead is very low, and we can pass the savings on to you!  You are also buying DIRECT versus paying several "middle men" to have the items shipped into their warehouse and stored, and all of their overhead…  At Monocoque Metalworks, you're paying for steel, exact shipping with no handling markup, and expert craftsmanship.  The unsurpassed customer service and enthusiasm for your project is free…
Thank you for taking the time to review the points above.  If you like what you're hearing, give us a call – I look forward to being a part of your restoration!
Click Here to purchase panels in our Online Store!
Monocoque Metalworks – (443) 907-2287 – Chuck
Scroll down to the bottom of this page for photos of just SOME of the E-Type panels we fabricate here! ALL panels shown on this page are Monocoque Metalworks pieces that are available for purchase, plus MANY, MANY more – we can do them all – RIGHT!

Click Here to purchase panels in our Online Store!
Monocoque Metalworks – (443) 907-2287 – Chuck